Partner 3 - Microvitae Technologies
EPITARGET Team Microvitae
Pierre Leleux, PhD

C.T.O

Phone: + 33 4 42 61 68 77

E-Mail

Eloise Bihar

R&D Engineer

Phone: + 33 4 42 61 68 88

E-Mail

Thomas Lonjaret

R&D Engineer

Phone: + 33 4 42 61 68 75

E-Mail

Valery Bouquet, PhD

Director of Product development

Phone: + 33 4 42 61 68 75

E-Mail

Vincent Caravéo

Production supervisor

Phone: + 33 4 42 61 67 93

E-Mail
The EPITARGET Team from Microvitae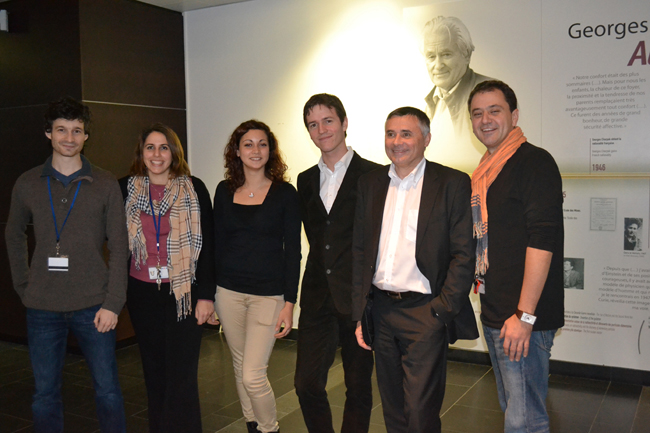 Company presentation

Microvitae Technologies is a private company founded by Thierry Hervé (former INSERM researcher) in 2002 out of academic researchers conducted by Thierry Hervé's Microsystem group at Grenoble Faculty of Medicine. This company won the 2002 French National Contest for Creation of Innovative Companies (CNCE) with the highest 450 k€ dotation. Microvitae is specialized in design, fabrication and commercialization of micro and nano devices for brain functional exploration.
From 2004 to 2008, Microvitae developed and provided all technology (electronic device & polymer microelectrodes) for Marseille Hospital Research project conducted by Professor Jacques Magnan entitled "direct cochlear nerve monitoring during Skull Base Surgeries". MVT designed also microelectrodes and wireless monitoring system for FP6 2004-2009 SENSATION IP devoted to Sleep, Vigilance, Stress and Attention monitoring of Drivers.
In 2011:
Microvitae obtained EC mark of its Evoked Potential system which is now commercialized,
Microvitae obtained the ISO 13485 EC medical label from French LNE-GMED for its Quality ManagementSystem.
Since January 2010, MVT has built a partnership with

AMU and

BioElectronics Laboratory of Ecoles des Mines de Saint-Etienne and participates since October 2010 to the 3 years French program MUSIC (MUltisenSIng polymer transistors for in vivo reCording) into which Microvitae develops electronic wireless brain data acquisition system for animal experiment.
For its technological R&D projects, Microvitae has access to the MicroPacks Plateform and cleanrooms of the CMP (

Microelectronics Center of Provence).