Partner 17 - Medizinische Hochschule Hannover
Dr. Jens P. Bankstahl

Principal Investigator

Phone: +49 5115323504

Fax: +49 511532163504

E-Mail

PubMed

ResearchGate

Medizinische Hochschule Hannover

Carl-Neuberg-Str. 1

30625 Hannover

Germany

Website
EPITARGET Team MHH
The EPITARGET Team from MHH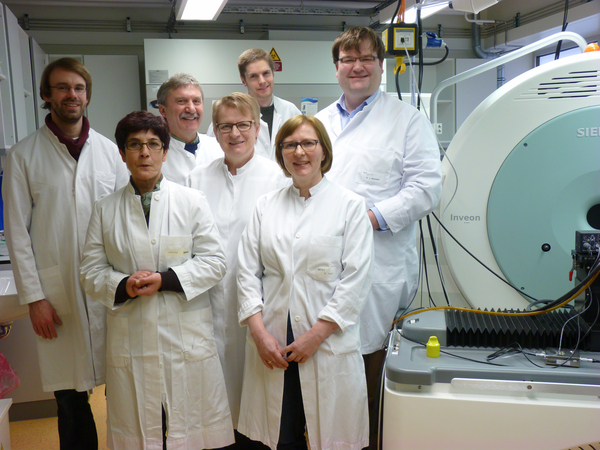 Institute presentation
Hannover Medical School (

MHH), founded in 1965, is one of the world's leading university medical centers, providing the whole spectrum of supra-maximal medical treatments. MHH currently employs 7610 staff members including 1291 medical doctors and 425 scientists. The outstanding success in interdisciplinary collaboration both within MHH and with extramural scientific institutions is reflected in the fact that MHH is the German medical university with the greatest volume of grant funding.
The Department of Nuclear Medicine was rebuilt since 2011, and is equipped with new state-of-the-art clinical and preclinical PET/CT and SPECT/CT scanners. It is also fully equipped for all aspects of PET and SPECT radiochemistry (cyclotron, hot-cells, automated radiochemical synthesis systems) and has over 36 years of experience in the development of radio-labeled radiopharmaceuticals. In addition, strategic partnerships were established with two global high-tech companies, Siemens and GE, for the development of new imaging solutions as well as the evaluation of new tracers. The recently built Preclinical Molecular Imaging Lab is equipped with two high-end small animal scanners, an Inveon dPET/CT (Siemens) and an eXplore SPECZT/CT 120 (GE) and is closely associated with the Central Animal Facility which runs a recently built non-nuclear imaging lab (Head: M. Meier, PhD). This lab is equipped with a small-animal 7 Tesla MRT Pharmascan (Bruker), a high-performance ultra-sound system (VisualSonics) and a new FMT system. This unique surrounding and a history of strong collaboration with each other give the opportunity to evaluate biomarkers for epileptogenesis using the whole range of the most recent imaging techniques.
J. P. Bankstahl, who is head of Preclinical Molecular Imaging, has worked in the fields of epilepsy research and molecular imaging over the last 7 years. He received his PhD in the lab of W. Löscher where he also spent four years as a postdoc and was trained as a neuropharmacologist. During an FP7-funded project (EURIPIDES), he was also intensively trained in molecular imaging at the Austrian Institute of Technology. He has profound knowledge in animal models of epilepsy and has provided significant contribution to the understanding of transporter function at the blood-brain barrier as a mechanism of pharmaco resistance in epilepsy.